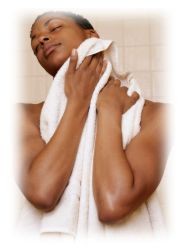 Body 2000 - The 4 part Program
Regular and thorough skin cleansing is essential for healthy, radiant skin. Peau Vive's cleansing products effectively free surface adhesions, waste products and contaminants like dust and pollution, allowing the skin to breathe and leaving the skin cleansed but not stripped of its natural protective barrier.
The Peau Vive cleansing program accelerates the skin's regeneration process and improves its ability to naturally regulate its own equilibrium.

The Peau Vive cleansing treatment begins with the Peau Vive Shower Gel, which has the active ingredients of Ginseng and Hydrocotyle. For a deeper cleansing, Peau Vive's Botanical Exfoliant uses natural plant ingredients to remove dull & dead skin cells while softening and brightening the skin. The result is that the skin will look and feel fresh & wonderful.



Body 2000 Hydro-Balancing Program
Moisture is essential to healthy skin because it allows the skin to transport and dissolve essential minerals, vitamins and trace elements. In modern heated homes & offices, the relative humidity is comparable to a desert-a condition worsened by the effects of chemical pollutants, harsh skin products and over-exposure to the elements, all of which breaks down the skin's natural hydro-lipidic film and rob it of its ability to retain moisture. Peau Vive's Hydro-Balancing program restores this vital moisture and promotes optimum skin hydration & a radiant, toned complexion.

Peau Vive's Hydro-Balancing Tonic is made from: Burdock, Comfrey, Licorice extracts and Hydrolyzed Milk Proteins to help the skin retain its moisture. It imparts a wonderful sensation of softness, freshness and elasticity.



Body 2000 Eco-Protective Program
You don't need a sunburn to experience the risk of direct sunlight. Tanning at the beach or walking outdoors combines with the effects of pollution from sulfur dioxide, carbon monoxide, lead dust & fossil fuel combustion and today's weakened ozone layer, to age the skin and make proper skin care more important than ever.

With its unique Cyto-Photo-Protective Agent (CPA), Peau Vive's Eco-Protective Program strengthens the skin's natural defenses against such external agents as solar radiation, air pollution and free radicals, while improving moisture and tone. It also protects the shin's immune system from the harmful effects of chemicals in sunscreens and cosmetics.



The Peau Vive Body 2000 Restorative Program is designed for a combination of corrective therapeutic massage and home use treatments. For the professional clinician, Peau Vive has developed specialized techniques that minimize the health-giving benefits of the product. The Peau Vive Restorative Program draws on powerful vitamins, minerals and other nutrients from nature's purest sources to help restore and revitalize the skin and enhance its natural beauty and radiance. It targets the causes of the following conditions and strengthens the skin's defenses against them:
Cellulite
Sagging breasts
Loss of tone
Environmental irritation and
premature aging
Stretch marks
Toxicity
Swollen/heavy legs
Stress